The majority of APH ConnectCenter webinars also provide Academy for Certification of Vision Rehabilitation & Education Professionals (ACVREP) credit. Credit is only available for the live presentation at this time. To collect ACRVEP credit, please listen for the opening and closing codes during the live session and submit these on the ACVREP Certificate Request form linked from our Education Training page. Following submission, a certificate will be emailed to you within a week.
Monitoring Your Blood Sugar Levels with Low or No Vision
Date: June 23, 2021
Time (stated in Eastern Time): 5:30-7:00PM ET
Description: This webinar will explore the importance of monitoring your blood glucose levels. We will provide information and demonstrations of talking blood glucose meters, and how to make continuous glucose monitors (CGM) accessible. Also, if you have trouble getting blood on the test strip, join this webinar to learn some helpful tips!
ACVREP credit is available for the live webinar. Register HERE.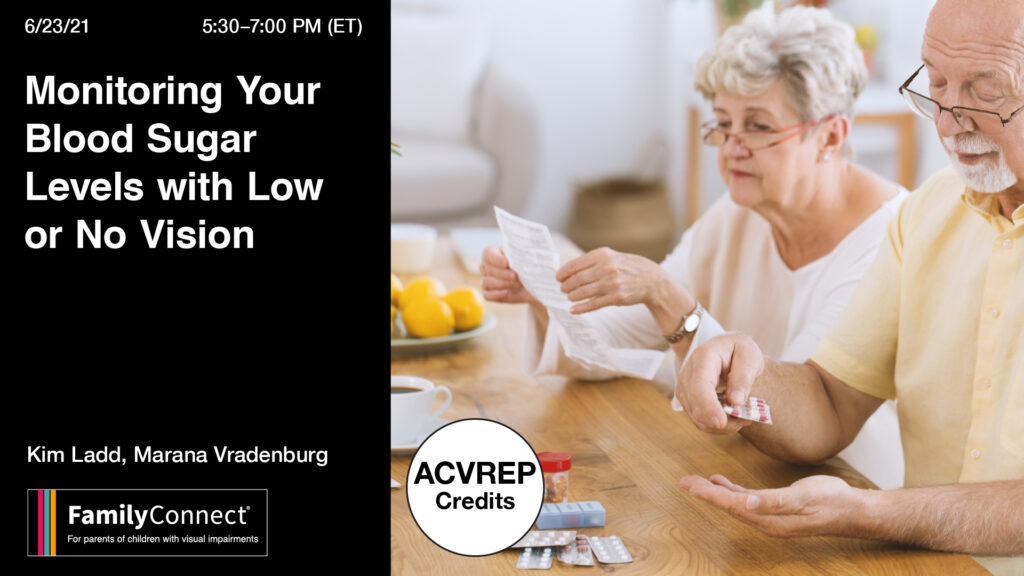 Practical Steps to Independence When You're New to Vision Loss
Date: July 7, 2021
Time (Eastern): 5:00PM ET – 6:30PM ET
Description:  Maintaining or regaining independence when you're new to vision loss can be stressful, overwhelming, and even confusing. VisionAware can help you cope with recent vision problems while you are locating or waiting to receive vision rehabilitation services. In this webinar our presenters who have all have experienced vision loss themselves, will share some useful and practical ideas and tips to help get you started on the path to independence, including how to find vision rehabilitation assistance, if you haven't taken that first step.
ACVREP credit is available for the live webinar. Register HERE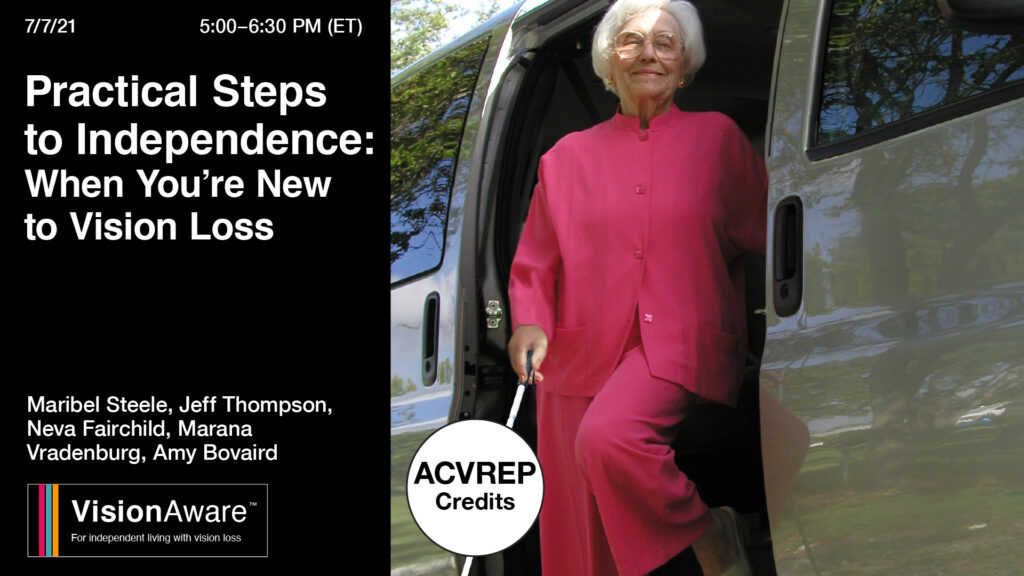 Connect Center Webinar Archives
Missed a chance to attend one of our webinars or just looking for more resources? Many of past CareerConnect, FamilyConnect and VisionAware webinars are available on our ConnectCenter YouTube playlist.