The majority of APH ConnectCenter webinars also provide Academy for Certification of Vision Rehabilitation & Education Professionals (ACVREP) credit. Credit is only available for the live presentation at this time. To collect ACRVEP credit, please listen for the opening and closing codes during the live session and submit these on the ACVREP Certificate Request form linked from our Education Training page. Following submission, a certificate will be emailed to you within a week.
Movie Screening and panel discussion of Documentary Film Going Blind: Coming Out of the Dark About Vision Loss
Date: May 4th – 6th with Panel Discussion on May 6th
Time (Eastern): Panel Discussion 2:00pm – 3:30pm May 6, 2021
Duration: Film 81 minutes (watch between 9:00 am ET May 4th and 9:00 pm ET May 6th)
Use the following links and the password APHCONNECT2021 to view the film.
Description: Join us for an insightful and affirming film screening and panel discussion. In this two-part event you will receive a link to watch the film Going Blind: Coming out of the Dark About Vision Loss (2010) from 9:00 am ET on May 4th through 9:00 pm ET on May 6th. Then on May 6th at 2:00 pm ET join our interactive panel discussion to meet the film's creator, Joe Lovett, and some of the people who shared their journeys of vision loss in the movie. Our panelists will also include an ophthalmologist, low vision clinician, and representative from HumanWare who will answer your questions and help you learn about living with vision loss and the types of low-vision solutions people with low vision can use to thrive and succeed after vision loss.
GOING BLIND: COMING OUT OF THE DARK ABOUT VISION LOSS (2010) is a unique documentary film that increases public awareness of sight loss and low vision issues profoundly affecting the lives of more and more people around the world. Director Joseph Lovett has glaucoma, a disease that robs 4.5 million people worldwide of their vision.
After years of slowly losing his sight, Joe decides to take action: to investigate how others have dealt with their vision loss. His search begins small, with people Joe meets on the streets of his hometown New York City, and gradually leads him to places and people around the country, of all different ages and backgrounds. Each has a fascinating story about dealing with the vision loss caused by sight-robbing diseases, infections, and accidents. As a filmmaker, Joe uses the tool he knows best to gather information, connect with individuals, and find answers to share with the world.
Total of 3hrs ACVREP credit for both parts (screening and discussion) Register HERE.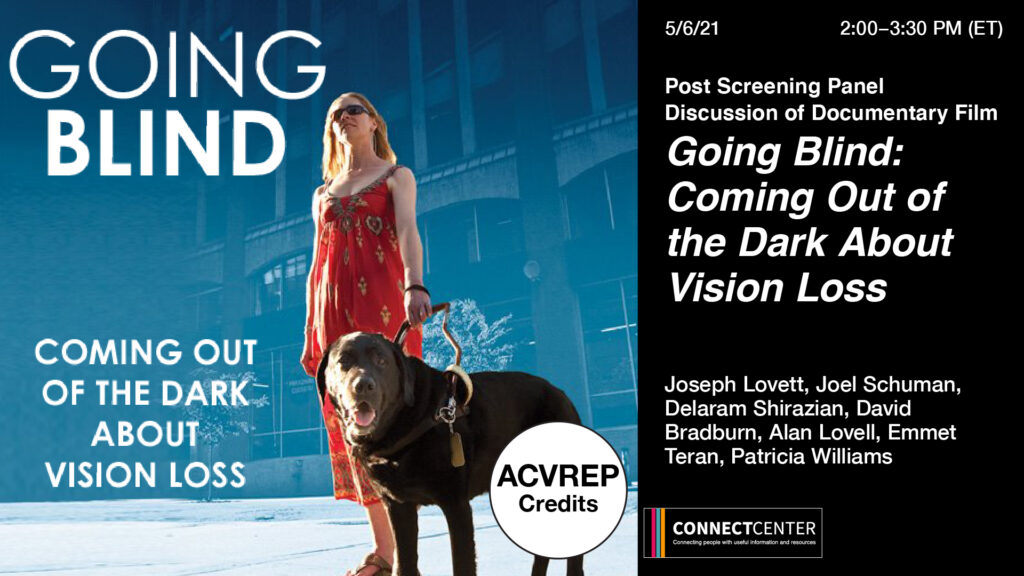 Early Literacy
Date: May 10, 2021
Time (Eastern): 1:00 – 2:30PM ET
 Description:   Early literacy is so much more than just books! In this session, we will discuss how all areas of development – cognitive, motor, social, language, vision, compensatory, self-help – are strengthened by building early literacy skills. Strategies to build your child's or student's emerging literacy skills that can be easily integrated into daily routines with the use of household materials will also be shared.
ACVREP credit is available for the live webinar. Register HERE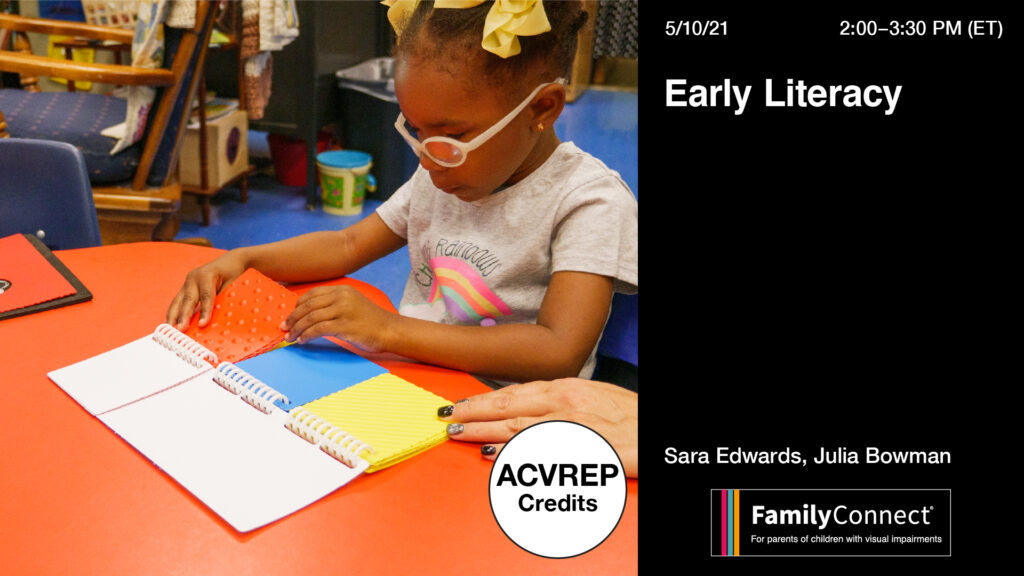 Coping with Your Feelings About Losing Vision: How to find Help and Support
Date: May 20, 2021
Time (Eastern): 2:00-3:30PM ET
Description: Vision loss can lead to depression, overwhelm and anxiety for many people. In this webinar for people experiencing vision loss, mental health and rehabilitation professionals who also live with low vision, will discuss ways to cope, accept and even thrive despite how differently your life may be as a result of vision loss. We'll discuss the emotions that you might be feeling as well as how to find support.
ACVREP credit is available for the live webinar. Register HERE.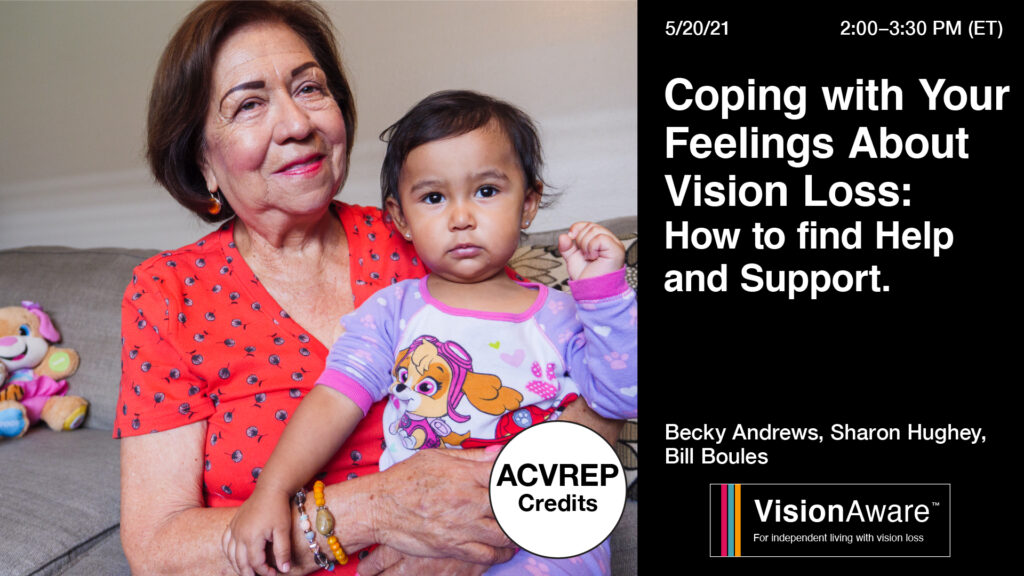 Connect Center Webinar Archives
Missed a chance to attend one of our webinars or just looking for more resources? Many of past CareerConnect, FamilyConnect and VisionAware webinars are available on our ConnectCenter YouTube playlist.