The majority of APH ConnectCenter webinars also provide Academy for Certification of Vision Rehabilitation & Education Professionals (ACVREP) credit. Credit is only available for the live presentation at this time. To collect ACRVEP credit, please listen for the opening and closing codes during the live session and submit these on the ACVREP Certificate Request form linked from our Education Training page. Following submission, a certificate will be emailed to you within a week.
When You Can't Believe Your Eyes: Self-advocacy and Low Vision
Date: July 26, 2021
Time (stated in Eastern Time): 5:00-6:30PM ET
Description: In observance of the 31st anniversary of the Americans with Disabilities Act, author Hannah Fairbairn, will discuss the problem with eye contact, smiling, and nodding for people with low vision. You may not see much of this now and feel confused, not knowing whether someone is responding or not. Learning self-advocacy by using a "speak up" style can help. The ADA gives us some great ways to practice starting conversations and gain social confidence.
ACVREP credit is available for the live webinar. Register HERE.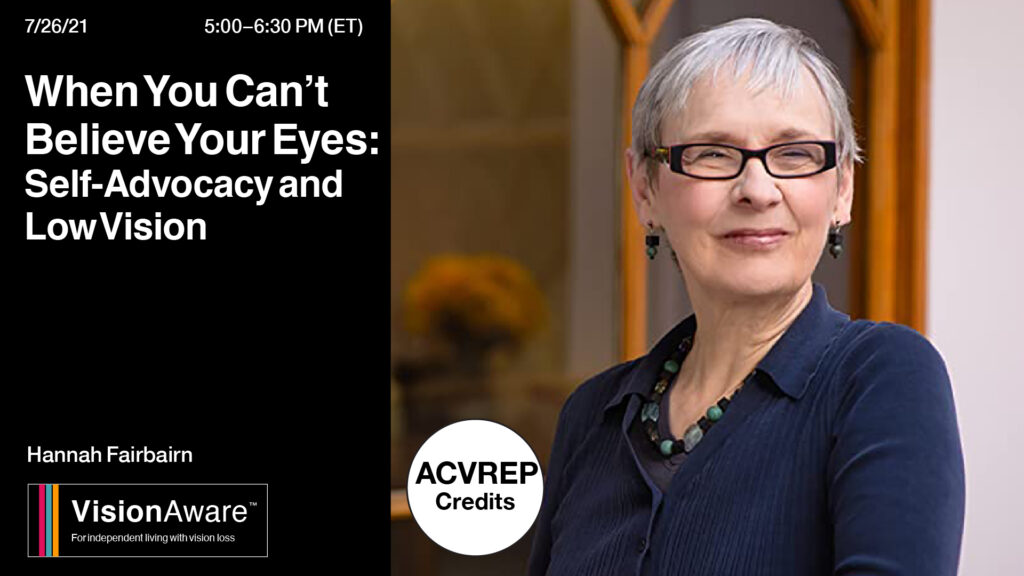 ---
Connect Center Webinar Archives
Missed a chance to attend one of our webinars or just looking for more resources? Many of past CareerConnect, FamilyConnect and VisionAware webinars are available on our ConnectCenter YouTube playlist.