ConnectCalendar
Promote your event and share it with the community
Benefits of Audio Description in Education (BADIE) Contest for Students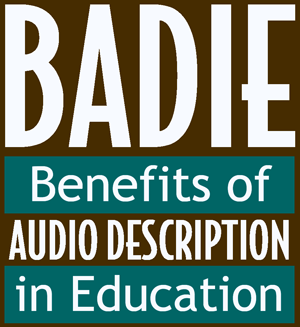 The American Council of the Blind's Audio Description Project (ACB-ADP) and DCMP are cosponsoring an exciting opportunity for young people who are blind and visually impaired: The Benefits of Audio Description in Education (BADIE) contest!
Students will choose a described video from DCMP, the library, or a video streaming service and write a review of the video and its audio description. Reviews can be submitted in writing, in braille, or via an audio recording. Students aged 7 to 21 can participate.
Deadline for entries: January 31, 2022
Grand-prize winner will receive an iPad Mini!
Each first-place winner will receive a $100 iTunes gift card. Second-place winners will receive a $50 iTunes gift card, and the third-place winners will receive a $25 iTunes gift card. Each supporting teacher who has a first-place-winning student will be awarded a $100 Amazon gift card.
Related Events